As the professional body representing licensed conveyancers in NSW the purpose of the Australian Institute of Conveyancers NSW Division is to: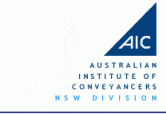 promote, reform and improve the conveyancing profession,
to represent the views of the profession and its members,
to encourage and promote the study of conveyancing, and
to encourage honourable conduct and best practices throughout the profession.
In order to achieve these objectives the Institute's activities include:
– lobbying Government and related bodies to improve and amend legislation
– the provision of educational seminars and programs for members
– the active promotion of the profession and conveyancing generally
– the provision of tools to enable members to increase their competence and professional standards
As a member of a national organisation such as the Australian Institute of Conveyancers, the Division gains the benefits that go with a national profession and the Division has been, and always will, work closely with the national council of the Institute. Being a member of a national body the Division carries more weight when negotiating with government and related professional organisations and institutions.
The Division invites all conveyancers in NSW to become members and gain the benefits of being involved with the principle professional organisation representing conveyancers in this State. These benefits are only available to Institute members and we welcome all new inquiries and membership applications.