Conveyancing Made Easy
You'll find us accurate, detail-conscious, cost-effective and friendly, making your conveyancing simple, stress-free and fast.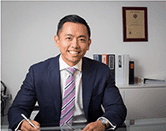 As specialists in NSW conveyancing, we know the business inside-out. You'll be looked after by our expert team using the latest technology and up to date industry knowledge in all aspects of conveyancing for local and overseas property purchases and sales.
Our principal, Luke Guanlao, fully understands the anxieties and hassles that can accompany any property transaction, large or small.
Luke and his team of professionals and selected industry partners will help you through the conveyancing minefield, making it simpler, faster and easier than you ever believed possible.
Because we specialise in conveyancing, you are assured of our complete attention, knowing that our professional team won't be distracted by other matters.
Call us now on 02 8920 0200 to discuss your purchase or sale and we'll prove it.
Having worked in the real estate industry I saw first-hand the stresses clients go through. When it was my turn with a family of three and a very pregnant wife, Luke and his team made it easy
Luke is a good sort. The whole process was easy and simple. Id recommend Sydney Property Conveyancing to anyone. 11 out of 10!
Absolutely fantastic, they made the hole process so easy for us. This is the fourth property Ben and I purchased and she was by far the most competent, organised and communicative conveyancer we have dealt with
I have engaged Sydney Property Conveyancing twice now and have been very satisfied with the service. The prompt attention provided by Luke and his team during the various stages of the sale certainly contributed to a smooth sale on both occasions