Off the Plan
A strata unit may be advertised before the building has been constructed. Buying a strata unit under these circumstances is commonly known as buying 'off the plan'
CONTACT US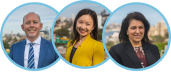 When a strata unit is advertised and purchased before the building process has begun, it is referred to as buying 'off the plan'. There are many issues that can be encountered with an off the plan purchase, which is why it is imperative to work with a solicitor or licensed conveyancer who will ensure the risks are mitigated.
At Sydney Property Conveyancing, our team are specialists in off the plan purchases and will advise you on your rights and responsibilities. Prior to purchasing an off the plan house or unit, our conveyancers will discuss and explain the terms of your contract, ensuring that you clearly understand it's terms and conditions. Some of the most important considerations which our friendly staff will shed light on include:
Whether there are penalties from withdrawing from a contract.
Whether the developer can make changes to the unit.
The risks involved with a purchase that is subject to financing.
Whether on-selling is allowed.
How long a developer can delay settlement.
Issues and risks relating to building defects.
Despite there being risks involved in purchasing a strata unit, the benefits are appealing to many home buyers. Some of the greatest advantages include benefits with off the plan stamp duty and finance. Our extensive knowledge in this area will be important in determining how much you can save on your newest property. By assessing your current circumstances, we can advise you on whether you are eligible for government benefits (such as a first-home buyers grant), as this can have a significant impact on stamp duty. We can also connect you to our extensive network of brokers and financiers to assist with your purchase. We understand that this process can seem complex, although with our friendly staff and expert guidance, we can save you time and money in the purchase of your brand new property.
Speak with one of our friendly team today, to find out how you can buy your very own strata unit.
Our team is here now for you. Get your quote now!